Trenčín – we are launching construction of our company's seventh retail park!
27.7.2018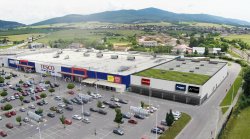 The Laugaricio Retail Zone in Trenčín will be expanded to include Mountfield, Planeo Elektro and Autogames stores, which will be located near the Tesco department store. The opening of the retail park with a total area of roughly 2,500 m2 is planned for March 2019.
You can track construction on Instagram: https://www.instagram.com/oc_trencin_fastav/
We will be introducing more of our projects soon.